Chicken Stuffed Baked Avocados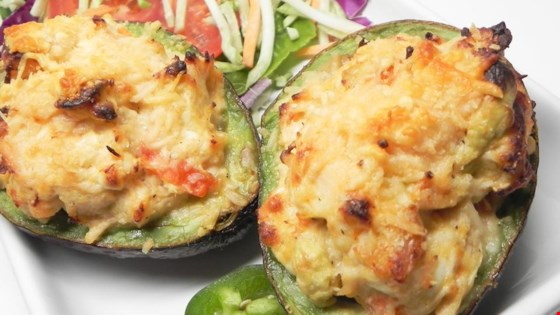 This is a quick and easy lunch to make and works well with any side.
This takes less than 20 minutes to prepare and serve.
Great for picnics or eating out on a nice summer day.
Ingredients:
4 avocados, halved, and pitted
2 cooked chicken breasts, shredded
4 oz. cream cheese, softened
1/4 cup chopped tomatoes
1/4 tsp. salt
1/4 tsp. pepper
1 pinch of cayenne pepper
1/2 cup shredded parmesan cheese, or more to taste
Preheat the oven to 400 degrees F (200 degrees C).
Scoop out some of the flesh in the center of each avocado and place into mixing bowl.
Add shredded chicken, cream cheese, tomatoes, salt, pepper, and cayenne pepper.
Mix well.
Scoop spoonfuls of mixture into the wells of each avocado.
Top each with avocado half with a generous amount of parmesan cheese.
Place avocado halves, on baking sheet or pan.
Bake avocados in preheated oven until cheese is melted (about 8-10 minutes).
Tips:
Place avocado halves, face-up, in muffin cups to stabilize them.
Best side dishes to accompany this is a salad, cole slaw, or some fruit.
Chipotle Steak with Pineapple Avocado Salad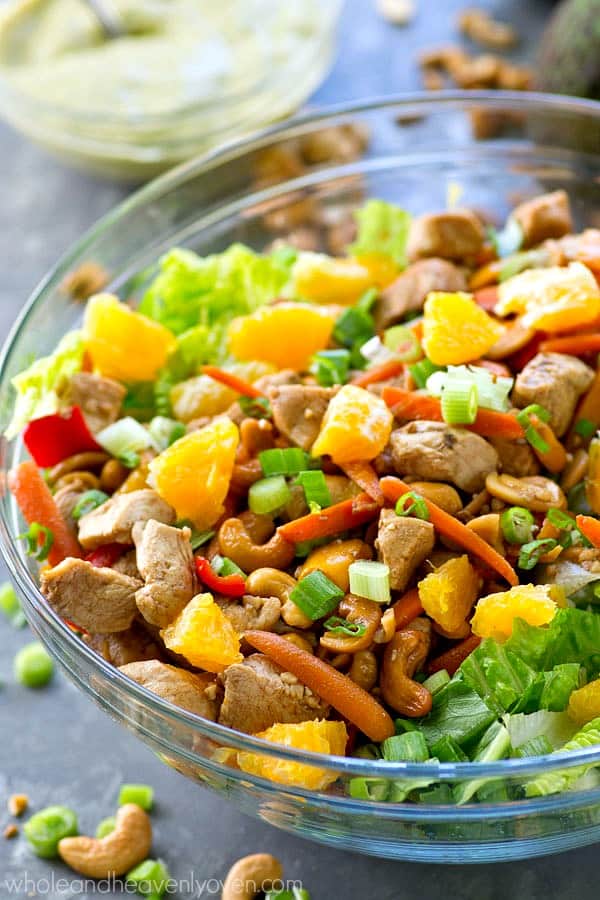 This is a delicious option for lunch.
Serves four and is great for a family setting or for having friends over.
This is a dish worth talking about.
Takes less than 20 minutes to prepare and serve.
Ingredients:
1 20oz. can of pineapple chunks
2 canned chipotle peppers in adobo sauce, seeded and minced
2 garlic cloves, minced
2 tbsp. honey
4 tsp. fresh lime juice
1-1/2 lbs. beef skirt steak
1 avocado, seeded, peeled, and cubed
1/2 cup red bell pepper, cut into 1/2-inch pieces
1/4 cup green onions, thinly sliced
2 tbsp. finely chopped fresh parsley
Drain pineapple from can and save 1 tbsp of juice.
In a small bowl, combine saved pineapple juice, chipotle peppers, garlic, honey, and 2 tsp of lime juice.
Save 2 tsp of lime juice for salsa mix.
Heat ridged grill pan over medium-high heat until very hot.
Place steak in the pan, brush top with half chipotle mixture, and cook for 2 minutes.
Turn steak over and brush with the remaining mixture.
Cook 2 to 3 minutes longer for medium-rare or until desired cook.
Turn steak over again and cook for 30 seconds longer.
Remove steak from the pan and put on a cutting board; keep warm.
Pineapple-Avocado Salad: In a medium bowl, mix pineapple chunks, avocado, red bell pepper,
green onions, parsley, the saved 2 tsp. of chipotle mixture, and the remaining 2 tbsp. of lime juice.
Thinly slice steak. Serve steak with the Pineapple-Avocado Salsa.
Tip:
Good additions to the salad includes: nuts, cucumbers, mandarin orange slices, and grapes
Developed by Michael Hunter
Created: Aug 3, 2020
https://quickcookbook.neocities.org/
Email: mhunter8291@gwu.edu