Asian Sesame Noodle-Chicken Salad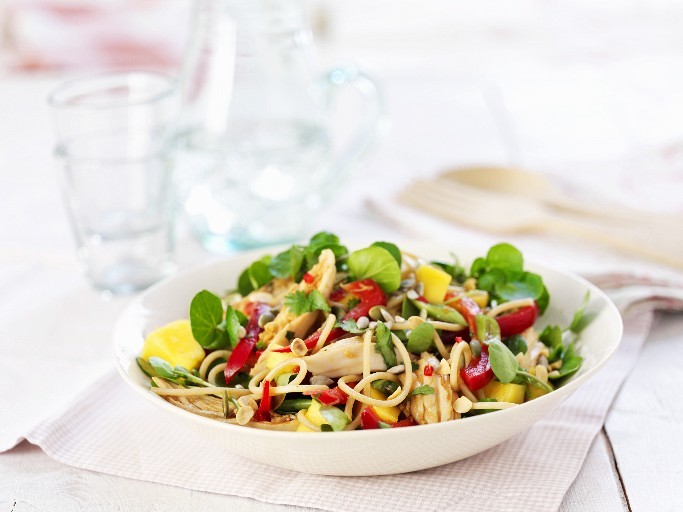 This is a quick and easy dinner to make.
It is great to eat hot or cold and does well as a to-go meal for lunch the next day.
Ingredients:
1/4 uncooked spaghetti
2 cups of loosely packed baby spinach leaves
1/2 lb. boneless, skinless chicken breasts, cooked and sliced
1 red pepper, cut into thin strips
1 8oz. can of drained pineapple tidbits
1/4 cup chopped fresh cilantro
2 tbsp. chopped dry roasted peanuts
2 tbsp. dry roasted sunflower kernels

1/2 cup Asian toasted seasame dressing
Cook spaghetti as directed on package, do not add salt.
Drain.
Move cooked spaghetti to large bowl.
Mix spaghetti with all the ingredients except for the dressing.
Add dressing and mix lightly.
Tips:
This product can last for a few days in the refrigarator
and can easily be eaten cold or heated up in the microwave.
Quick Mississippi Pot Roast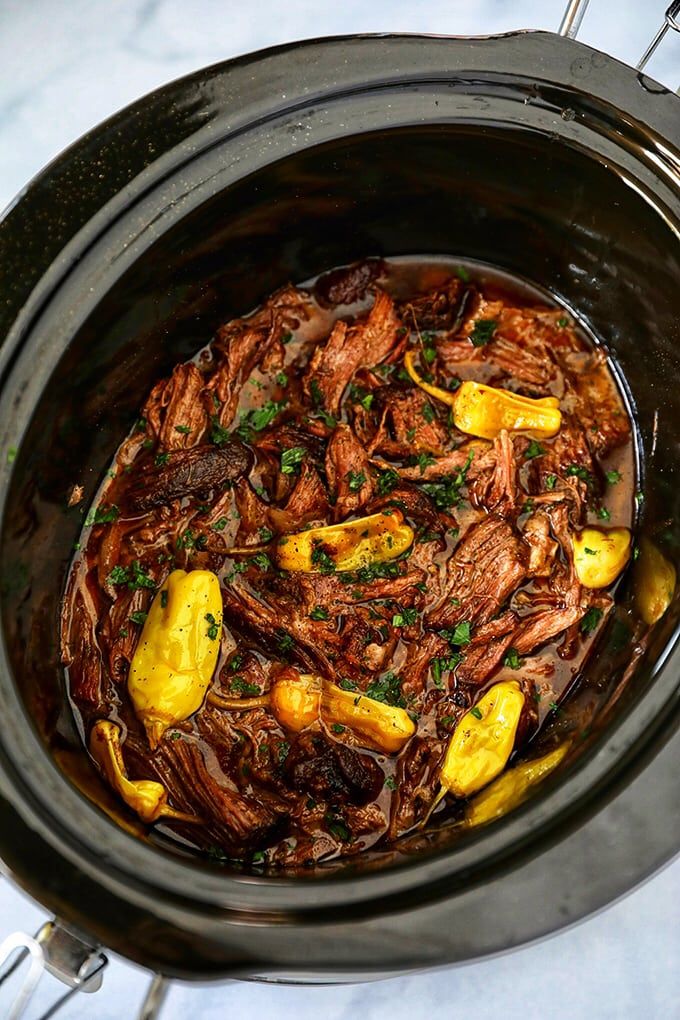 This dinner item is cooked in a pressure cooker.
This roast is a great way to show friends and family what a pressure cooker
can do to enhance the flavors in a dish. Great for big gatherings.
Serves 8 people and takes 1 hr 30 minutes to make.
Ingredients:
2 tbsp. canola oil
3 lb. boneless chuck roast, trimmed
1 1/2 tsp. kosher salt
1 tsp. black pepper
2 medium sized (10 oz each) red onions, quartered
3 medium garlic cloves
1 cup of jarred pepperoncini salad peppers, plus 2 tbsp. liquid from jar, divided
1/4 cup beef broth
2 tbsp. unsalted butter
1 (1-oz) envelope of ranch dressing mix
1 tbsp. chopped fresh dill
1 tbsp. chopped fresh chives
On a programmable pressure cooker (Instant Pot), select "Saute".
Select "high" temperature setting.
Allow for cooker to pre-heat.
Add oil to the cooker.
Pat roast dry by sprinkling salt and pepper on all sides.
Add roast to cooker.
Cook roast by turning often, until browned (about 10 minutes).
Remove roast from cooker.
Add onions and garlic to cooker.
Cook, stirring often to scrape browned bits, until just softened (about 2 minutes).
Press "cancel". Add browned roast, peppers, beef broth, butter, and ranch dressing mix.
Cover cooker with lid and lock in place.
Turn steam release handle to "sealing" position.
Select "manual/pressure cook" setting.
Select "high" pressure for 55 minutes.
(It will take 8 to 10 minutes for cooker to come up to pressure before cooking starts.)
Let the pressure release naturally.
(This will take 10 to 12 minutes)
Remove lid and transfer roast to a deep serving platter.
Stir pepper liquid into juices in cooker.
Top the roast with the juices from the cooker mixture.
Sprinkle the roast with dill and chives. Serve.
Tip:
This dished is best served over mashed potatoes, egg noodles, or rice.
Developed by Michael Hunter
Created: Aug 3, 2020
https://quickcookbook.neocities.org/
Email: mhunter8291@gwu.edu